UnitedHealthcare's most successful preventative health program ever
Real Appeal
Digital Health & Weight Loss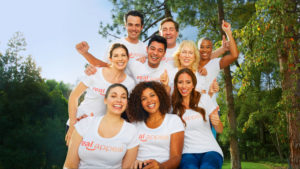 Over 3 Million Pounds Lost
UnitedHealthcare teamed up with Signature to create Real Appeal, a digital health program focused on helping people lose weight.
Despite years of effort by the healthcare industry, offering a weight loss solution that motivated people to make positive lifestyle changes proved challenging.
With over 40 years of weight-loss research, UnitedHealthcare understood a problem this big required a radically new approach. So, they asked us to engineer the Real Appeal program from the ground up.
Within 1 year, Real Appeal became UnitedHealthcare's most successful preventative health program ever.
Our Contribution
Market & User Research
Consumer Profiling

Competitive Analysis

Market research/Trends

Focus groups and Surveys
Vision, Strategy
Internal Stakeholder Alignment

Internal Vision Roadmap

Business Model Review

Brand/Marketing/Comms Strategy
Product Definition
Service Design
Product Recommendations and Roadmap
User Stories
Technical Architecture
UX/UI
Prototyping
Reality Check (Kick the Tires)
Heuristic Review

Technical Audit

Marketing/Brand/Content Audit


Development
Mobile App Frontend
Web Frontend
Product & Technical Support
Technical Scope and Resource Management
Technical Oversight of Development
Q/A Testing
User Feedback Testing
App Store Submission
Ongoing Product Strategy and Management
Brand
Brand Positioning and Persona Development
Brand Voice
Communications Architecture
Customer Experience
Design
Logo Development
Toolkits and Style Guide
Media Libraries (Email/Motion/Print/Digital Display/Sales)
Creative Templates & Assets
Photography
Copywriting
Packaging Design
End-to-end User Experience
Real Appeal changes lives by combining clinically-proven weight loss methods into an engaging and highly-personalized experience.
To create that experience, Signature designed an end-to-end program with Hollywood-quality videos, online coaching platforms, digital tools, home-kits and more.
What We Designed:
Member Portal
Mobile App
Email and Notifications
Trackers that Synch w/ 3rd-Party Apps
At-Home Kit
500 Pages of Content
10 Hours of Video Programming
Fitness Workouts
Nutrition Guides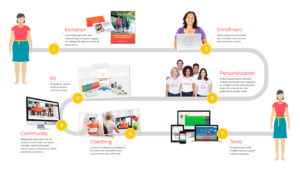 Focused on wellness, not illness
Real Appeal is all about the journey towards a better lifestyle, guided by an excellent experience. That's why Real Appeal participants are treated like members, not patients. Members of the program are given the support and tools they need to make changes, always in a positive light. We designed all communications and branding with a focus on wellness, not illness.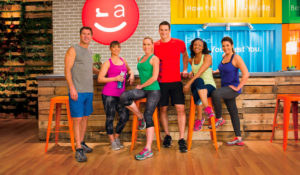 Custom Reporting
Participants personalize their program to meet their diet and exercise preferences, and can easily sync with third-party apps like Fitbit. With the reporting tool, Real Appeal coaches can monitor and advise participants based on patient outcomes.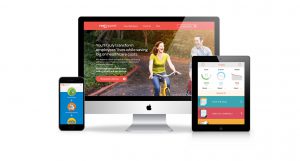 Engagement & Live Coaching
Carefully timed conditional notifications and communication triggers were developed to encourage participants to stay on track and take small steps to success.
One-to-one human interaction is key to motivating people, so we developed live over-the-internet group coaching sessions that took place each week and allowed the participants to interact with the coach and lesson plan, followed up with a digital quiz.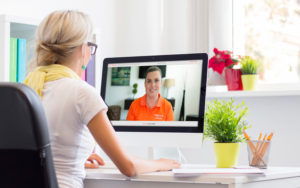 Weight Loss Tools & Guides
Getting something in your hands makes it all real, so we developed the packaging and materials for a kit delivered to the participant's home. We worked with key industry experts in nutrition and fitness to create 52 weeks of tips, educational information, recipes, lesson plans, and exercise routines, delivered to your phone and your home.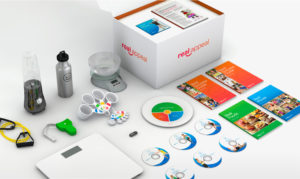 Enterprise Communications
Real Appeal was developed as a corporate health program, provided by businesses as a free value to their employees.  It was essential to help the internal HR departments communicate the value of the program to their employees, so we created a suite of collateral for their specific uses.
This included posters, presentations, and tabletops for lunch and learns, email strategy, copy and ad templates, intranet blog posts, and mailers, as well as social media posts and a host of media assets.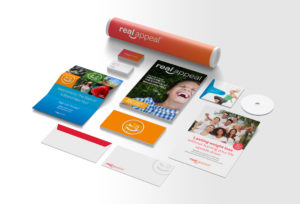 Studies Published in Peer-Reviewed Journals
Real Appeal's unique ability to drive participation and produce clinically significant weight loss can translate into meaningful cost savings. In a first-of-its-kind, peer-reviewed study analyzing real-world claims data of nearly 15,000 participants, Real Appeal demonstrated more than 2:1 ROI in Three Years.
Another study published in the peer-reviewed journal Obesity, used the Real Appeal program to prove the scalability and efficacy of online intensive lifestyle intervention in helping people lose weight.
+3 Million Pounds Lost
Since its creation, the Real Appeal program has helped over 700,000 participants lose more than 3 Million Pounds.
5x Rate of Engagement
Real Appeal's one-of-a-kind approach resulted in employee engagement five times higher than that of traditional disease-geared programs.
16% Annual Savings
Real Appeal participants saved up to 16% in annual medical costs compared to non-participants.
What our client had to say
"It was a pleasure working with Signature Creative through all stages of the development process. From branding, product design and layout, website and mobile development, Signature led and executed on great ideas with remarkable talent, and within an easy and collaborative ecosystem. I felt as though I had a personal concierge leading me through the entire journey, step-by-step. Signature makes the process fun, provides a personal touch, and delivers a quality product. I'd be happy to work with them again and again."
LAUREN MURPHY
EVP Real Appeal